Along with a surge in mosquitoes comes a surge in mosquito-borne diseases, such as Eastern Equine Encephalitis (EEE) and West Nile Virus (WNV), both of which have been causing reason for concern throughout the US in recent years. However, unlike EEE, which is found almost entirely in the East, WNV has spanned the entire continent in recent years. With the number of mosquitoes increasing, it is wise to take protective measures for both you and your pet in order to stay virus-free.
WNV is transmitted to humans and other animals through mosquito bites. Culex pipiens, or common household mosquitos, become infected when they feed on infected birds that have high levels of WNV in their blood. Scientists believe that the most likely "reservoir" for the virus in North America is the common sparrow, which can tolerate the infection. Ten days to two weeks after the mosquito's initial blood meal, the West Nile Virus reaches it's salivary glands and can then be transmitted to birds, animals or humans. When the mosquito bites a human or an animal, it injects the virus. Once the virus is in the human or animal, it multiplies in the blood system and crosses the blood-brain barrier to reach the brain. The virus causes inflammation of brain tissue and interferes with normal central nervous system functioning.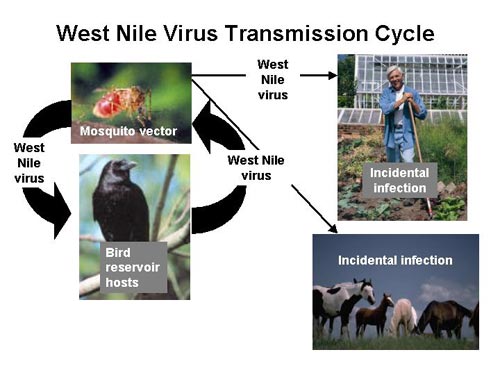 Cycle of West Nile Virus Infection
Once unheard of in the Western Hemisphere, West Nile Virus has seen a dramatic surge in the US over the past few years. WNV was first isolated in Uganda in 1937, and was not reported in the US until over 60 years later, following its discovery in birds from the Bronx Zoo in September of 1999. Officials confirmed that the virus was indeed WNV, and later linked it to over 55 infections and 7 deaths in the NYC area earlier that same year.
Over the next two years, 83 humans and 85 horses on the east coast were diagnosed with encephalitis caused by WNV, and the numbers have only increased. In 2002, WNV activity had spread to most eastern and mid-western states, with several hundred reported cases, many of which resulted in death. Since its introduction to North America in NY in 1999, the West Nile Virus has since spread across the entire continent. In 2005 alone, there were 3,000 human cases and 119 deaths linked to infection, and a record 4,269 cases the following year. Numbers began to dip in the following years, with a recent all-time low of 712 cases in 2011.
Unfortunately, this downward trend did not hold, and as of October 2, 2012, there have already been almost 4,000 reported human cases throughout the country and 163 deaths – the highest reporting since 2003. Over 25% of the cases are from Texas alone. California has the second highest number of WNV cases (216), closely followed by Louisiana (213 cases) and Mississippi (202). The only states currently untouched by the virus are Hawaii and Alaska.
As for animal illnesses, there have been 435 reported cases of WNV in 2012 – primarily in horses – up from the 119 cases in 2011 and 157 in 2010. California experienced the most animal infections last year, with a total of 39 cases, followed by Pennsylvania's 12 cases. However, this year, Texas and Louisiana have reported the highest numbers, with 62 and 50 cases, respectively, followed by Pennsylvania (38) and California (33).
Although the majority of people and animals infected by WNV won't get sick as a result, the symptoms can be very severe in humans, including fever, headache, body aches, rashes, swollen lymph glands, and in a rare number of cases, even death. The illness may last for as little as a few days, or for as long as several weeks. There is currently no vaccine for humans or dogs and cats, though an effective vaccination does exist for horses.
Dogs and cats will typically recover from the illness. In fact, it is unlikely that most pet owners will even notice any unusual symptoms or behavior after an infection. It is nevertheless important to consult your veterinarian about the appropriate products to use on your dog or cat in order to best avoid WNV. Federal health officials are predicting that West Nile Virus infections will increase in 2013, and it is important that you keep your family and pets safe.
Tags:
Bronx Zoo
,
mosquito-borne diseases
,
virus
,
West Nile Virus