For anyone traveling outside the United States with pets:
Call the appropriate embassy in Washington to confirm the entry requirements for your pet(s). Some embassies provide forms printed in English and in the host language for your veterinarian to complete. Some countries do not permit importation, or have long quarantine requirements.
Check the requirements to see how close to departure the required veterinary examination, vaccinations and tests must be completed.
Arrange with your veterinarian for required vaccinations and certificates.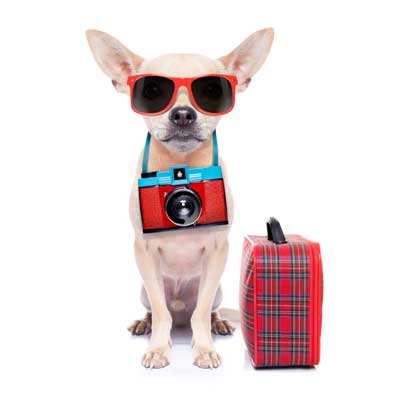 Certification requirements vary from country to country. Some countries simply require the examining veterinarian to be licensed in the state of origin. In this case, the veterinarian's examination statement does not need USDA certification. Some countries accept a standard letterhead health certificate and rabies certificate issued by a licensed veterinarian and endorsed by the USDA. Other countries require that your pet be examined by a federally accredited veterinarian and that a United States Interstate and International Certificate for Health Examination for Small Animals (AHPIS Form 7001) be issued by the examining veterinarian and endorsed by the USDA. (Since August 1994, only a federally accredited veterinarian can sign this form.) Call the embassy to determine the exact requirements before making an appointment with a veterinarian. Also, check the airline, as there have been cases where a country does not require a certification but the airline does.
The timetable for obtaining examination statements and certifications can be very tight. Plan well in advance to be sure all paperwork is completed in time for your departure date. You may send your paperwork by mail or courier, along with a rabies certificate, the appropriate fee for service and a self-addressed stamped envelope or a pre-paid Federal Express envelope (if you are short of time) for return to you. Make sure that the veterinarian's name is legible and include a contact person with a daytime telephone number.
If you are planning to travel outside the US with your pet, you need to contact your local Veterinary Services office.
If you have a relatively uncomplicated plane flight, taking your pet along with you might be the best solution. Even if your pet is on the same flight as you, the appropriate documentation is still necessary. Ask your travel agent or call the airlines for price information.
If you are planning to ship your pet, reserve air space as early as possible. Be sure to schedule your pet's arrival on a weekday and not on a weekend, as it is usually necessary for animals to be cleared by a veterinarian or health inspector upon arrival.
Provide a sturdy, leak-proof crate (lined with absorbent material such as newspaper) that is large enough for the animal to stand, lie down, or turn around, but not so large that the animal can be battered around in rough weather. Most pet stores sell shipping crates in various sizes.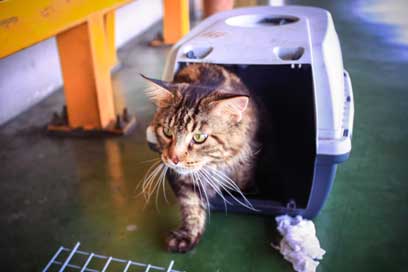 SHIPPING OF PETS CHECKLIST
Your pet should become acclimated to the crate by having practice sessions. Be sure the pet has a comfortable pad to lie on and a few familiar toys. A leash should also be included inside the crate.
Even if your pet is microchipped, put identification tags that include an emergency phone number on your pet's collar.
Print your name and destination address clearly on the shipping crate. Include your pet's name so that attendants can talk to him. If your pet has special needs or habits (bites or growls at strangers) include that information. You might want to list this information in other languages as well. In case your pet gets lost or needs to be identified, you should carry a photo with you.
Feed your pet a very light meal about six hours before shipping. Give water up until two hours before departure. A water dish attached to the the crate should be provided. The water dish should be conveniently located so an attendant can provide water at stopovers without being bitten. Send dry food along if the trip is long. If you send canned food, fasten an opener and dish to the crate in a cloth or mesh bag with feeding instructions clearly marked on the crate.
Do not tranquilize your pet without your veterinarian's approval. A tranquilized pet can injure himself more easily than a non-tranquilized animal.
Exercise your pet just before shipping.
If your pet is traveling with you, make sure you have a decent amount of time between connecting flights. This way, it's more likely that he is going to be transfered to your connecting flight.
If there is a delay, the airline may kennel the pets. Some airlines have kennel facilities while other do not. State on your airway bill that your animal is to be taken to the animal port if there is a delay or stopover.
Arrange to have your pet picked up immediately upon arrival. Airline facilities for pets may be limited or nonexistent.