We all claim that we have the smartest cat. And maybe you do. But is your cat a musical genius?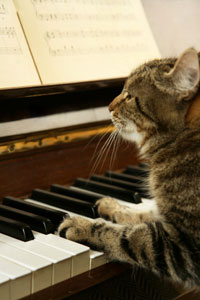 Ketzel, a cat from the Upper West Side of Manhattan, sure was. Ketzel died this summer at the age of nineteen, but has left in her paw steps a musical legacy. Ketzel was a composer – an award-winning composer, in fact, who won a prize at the Paris New Music Review's One-Minute Competition for a piece she pawed onto her owner's piano one morning in 1996. Morris Cotel, one of Ketzel's owners, was the chairman of the composition department at the Peabody Conservatory, who claimed Ketzel as "one of his best students." Cotel was shocked the morning Ketzel composed her one-minute-wonder, which he claimed to have a "structural elegance … with a beginning, middle, and an end." Cotel took note of his cat's masterpiece and submitted it to the competition. Although he explained the composer's identity in the entry form, the judges were not told that "Piece for Piano, Four Paws," truly was written by four paws.
Ketzel's piece premiered in 1998 in Peabody. It was later performed in Europe, over public radio, and at the Museum of the City of New York, where the composer herself was in attendance. After announcing Ketzel's piece, a meow was heard from the back of the hall acknowledging her new claim to fame.
Now that is one smart cat.
If you have a feline genius in your family, please let us know and we'll post your story on our blog. Please send your story to blog@longislandcityvet.com.
Tags:
NYC cat
,
NYC felines
,
smart cat