February is Pet Dental Health Month and the staff at Long Island City Veterinary Center is eager to provide you with some information about caring for your pet's teeth.
It is estimated that more than 80 percent of dogs and 70 percent of cats develop tooth and gum disease by the age of three years. As plaque builds up on your pet's teeth, it hardens into tartar. This results in the disease known as gingivitis. Signs of gingivitis include bad breath and reddened gums. If left untreated, gingivitis can cause periodontal disease, a serious infection that can damage the teeth and gums and lead to health problems elsewhere in your pet's body. If your pet is exhibiting any of the following symptoms, he or she may have periodontal disease:
Discomfort while chewing
Difficulty swallowing
Pawing at the mouth
Inflamed or bleeding gums
Bad breath
Doctors Keith Manning, Alexander Koenigstein and the veterinary technicians at Long Island City Veterinary Center take the oral and dental health of your cat or dog very seriously and believe that dental care is an important piece of your pet's preventative plan.
To properly evaluate and clean your pet's teeth, general anesthesia or deep sedation is necessary. If teeth cleaning is done without anesthesia or deep sedation, it is usually done outside a veterinary hospital by non-professional individuals. Only veterinarians are authorized to administer anesthesia or sedation to pets and veterinarians are the only professionals who can properly and effectively clean your pets' teeth.
During your pet's teeth cleaning, our veterinarians and skilled technicians use a hand scaler to remove tartar and plaque from your pet's teeth. Next, a periodontal probe is used to check under the gumline for signs of periodontal disease. An ultrasonic scaler is used to clean the teeth above the gumline and a curette is used to clean the teeth below the gumline. Finally, your pet's teeth are polished and his or her gums are washed with an anti-bacterial solution to prevent future tartar build-up. Fluoride is applied to help strengthen enamel and reduce tooth sensitivity.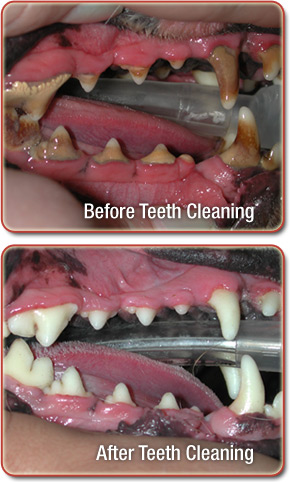 Dental disease and its serious consequences can be avoided by bringing your pet to Long Island City Veterinary Center for regular dental check-ups and teeth cleanings. During the last few years, veterinary dentistry has made tremendous strides. By taking advantage of the dental procedures offered at our hospital, your pet can enjoy the benefits of having excellent teeth well into his or her senior years.