Those golden years with your furry family member may be bittersweet, but a few simple actions can help him feel his best.
With the holidays approaching, now is a great time to consider the extra TLC that you can provide for your senior pet.
Senior moments don't always have to translate to forgotten keys and faux pas. When it comes to our pets, they have the potential to embody deep connections, joyful play, and the rewards that many years of good training and communication undoubtedly bring.
However, senior pets may experience aches and illnesses, and that is difficult. It's especially important to schedule semi-annual visits with your veterinarian to ensure careful monitoring and therefore optimal health. And there are a few simple things you can do at home to help increase well-being and comfort:
•Grooming: If your older dog is incontinent, he may have sore, itchy skin. Gently clean the underside of your dog, ensuring that he is free of urine or debris. Older cats often become less flexible, thereby struggling with grooming. Gently brush cats with longer fur, and check for mats which may occur under the arms or along the spine.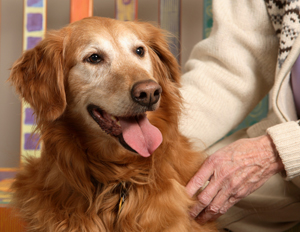 Older Dogs Require Additional Care
•Eating: Whether it's loss of appetite or a decreased sense of smell (making food less appealing), you can encourage eating. Warm food is more aromatic and may rouse his interest. Some TLC at feeding time (hand feeding or head rubbing) may also help him relax and focus on dinner. You can talk to your veterinarian about appetite stimulants – which can help him transition back to eating on his own.
•Drinking: Hydration is critical, and if your furry companion isn't drinking enough, he will not feel well. Consider replacing the water bowl with a pet drinking fountain – interesting, tempting, and often preferred by cats.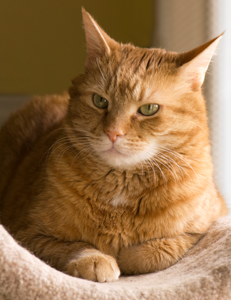 Change Generates Stress For Older Cats
•Mobility: There are easy adjustments for helping an animal who struggles with mobility. Ramps, as well as portable steps, let dogs independently climb in and out of cars; additionally, they help cats enter the litterbox. Pet strollers also provide a great ride for medium to small sized pets that wish to be included but can't keep up on outdoor excursions.
Providing that little bit of extra TLC is as simple as receiving quality veterinary care from the veterinary staff at Long Island City Veterinary Center, located in Long Island City, NY, and paying attention to a few details at home. With quality veterinary care and easy home adjustments, your senior pet can fully enjoy this holiday season as well as life to the fullest.
Tags:
Long Island City
,
Long Island City Vet
,
Long Island City Veterinary
,
Long Island City Veterinary Center
,
older cat
,
older dog
,
Senior pet