Recent news reports have alerted pet owners and veterinarians that as of September 24, 2013, the US Food and Drug Administration (FDA) has received approximately 3000 reports of illness, involving more than 3600 dogs, 10 cats, and including more than 580 deaths as a result of animals having consumed jerky treats. Most of the treats in question were made in China and were made with strips of chicken, duck, sweet potatoes and/or dried fruit. However, because manufacturers are not required to list the country of origin for each ingredient, the FDA is alerting consumers to be aware that negative side effects could develop after their pet consumes any jerky treat.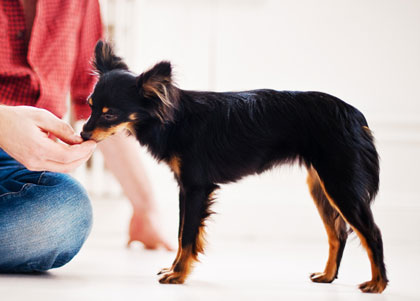 Signs and Symptoms
If consumption of a tainted treat is suspected, the FDA is urging pet owners and veterinarians to contact their state's FDA Consumer Complaint Coordinator. Common symptoms associated with this outbreak include decreased appetite, decreased activity, vomiting, diarrhea, increased thirst, and increased urination within hours of an animal eating the jerky treats. If these signs and symptoms are witnessed soon after a pet consumes such treats, the FDA urges owners to stop giving them immediately and place the suspicious treats in a sealed bag for analysis.
Know the Facts
In recent correspondence to veterinarians, the FDA has provided information as to what is required for local laboratories to properly test treats and also how to investigate a suspicious illness/death in association with the treats. Additionally, the FDA has provided veterinary hospitals with a consumer fact sheet to be shared with clients and to remind them that treats are not essential (or even desired) for a balanced diet.
The FDA continues to work with the manufacturers and distributors of the treats and China's Administration of Quality Supervision, Inspection and Quarantine to investigate potential sources of contamination or causes of illness in pets.
For a copy of the FDA's Oct. 22, 2013 letter to veterinarians or for basic product safety information on this or any pet-related product, visit the U.S. Food and Drug Administration's full site at www.fda.gov.
If you have questions about the jerky treats that you feed to your pet, please contact a veterinarian at Long Island City Veterinary Center. Our phone number is (718) 383-VETS and we are conveniently located in Long Island City at 48-18 Vernon Blvd., Long Island City, NY 11101.
Tags:
Jerky Treats
,
Long Island City Vet
,
Long Island City Veterinary